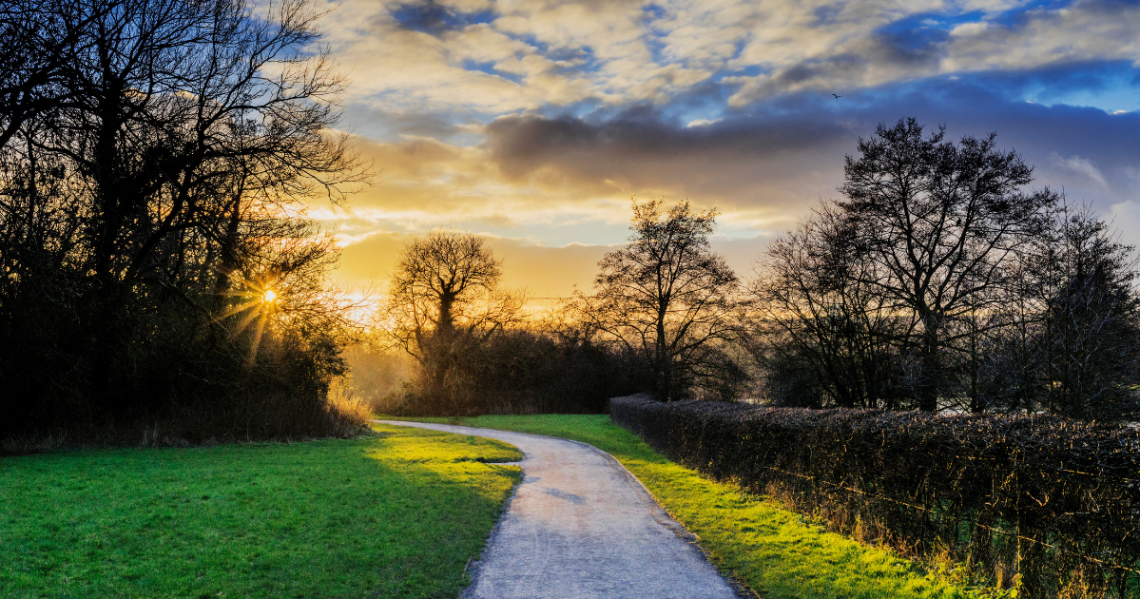 The Heart Set on Pilgrimage
Time for another Psalm. Psalm 84 is close to my heart. It's visual, speaking of birds and springs, and I love anything that relates to the natural world. And then there's the pilgrim part. I can't quite explain why, but the idea of being on a pilgrimage… My anxious heart clings to the idea that this world, this broken mess of a place where I live, isn't the final destination. I am enamored with the idea of life as a journey. I'm that person who loves the fantasy novels with epic journeys filled with danger, drama, romance, and an amazing destination.
This psalm is largely about the house of God. David is given as the author, and he starts by talking about how wonderful it is to be in God's house. He envies the sparrows that nest in the corners near the altar. Since this is David, the house is the tabernacle, not the future temple. It might have its glory, but it is also a hide tent, so I think his talk of its beauty isn't entirely visual.
What the Tabernacle meant to Israel
I don't think I understand clearly what the tabernacle and temple meant to Israel. Living post-Jesus, when I have the Holy Spirit dwelling within, I can be with God at any time and place. To Israel, being with God meant being near the house of God. Sure, God loved people everywhere, but the priests were in the temple. The sacrifices were made there. The center of religious life for the entire nation was there.
I wouldn't sing a song like this about my church or even the most beautiful church in the world. A church is a building. But the temple was a little more than a building. Smoke didn't fill my church when it was first opened like it did the temple. We don't carefully follow God-given rules when we decorate it. We never worry that someone will die in the back rooms because they didn't treat the place with the right respect.
So. The house of God is special, because that's the place where God meets with Israel. It is a place of praise. And to the song-writing anointed king of God's people, being in a place of worship and praise must have extra appeal. The center of governance would have been in his palace or some other building, but the most important place, the center of his truest power, was here in this moveable tent.
Let's take a trek
Then we get to the pilgrimage part. God asked the Israelites to trek to feasts a few times a year. It had to be a burden to set off on this journey time and again. But it would also be exciting. Jesus himself got lost during one of these treks because his family was so big that his parents didn't even realize he was missing. Imagine a big family traveling, laughing, cooking together. This is celebration. It was community and a bonding experience throughout the entire nation.
The NIV translation is like this:
Blessed are those whose strength is in you,
    whose hearts are set on pilgrimage.
6 As they pass through the Valley of Baka,
    they make it a place of springs;
    the autumn rains also cover it with pools.
7 They go from strength to strength,
    till each appears before God in Zion.
Psalm 84:5-8
The phrase hearts set on a pilgrimage gets translated in a variety of ways. Some say hearts set on the highways to Zion. Others say in the hearts are God's ways. A few say in the hearts are the way of them. But there is a journey in every translation, and God is directing the path.
In the valleys
Then we get the Valley of Baka. Maybe it's an actual place, or maybe it stands for a state of the hearts of the travelers. Depending on what Bible you open, it could be called the Dry Valley or the valley of weeping. And it could be covered with pools or with blessings. But whatever the translation, when the pilgrims pass through this area, blessings follow. Their hearts are set on this journey, and blessings follow them.
Their hearts are set. I love that phrase. They close up their lives to take this journey, and they will finish it. Nothing deters them once they take that first step, and even the land through which they walk is changed because of their passing.
Finally, strength to strength. Most translations stick to this, but a few say they get stronger along the way. I like the idea that strength to strength is a way of saying that, whatever they face—and journeys can have their share of unexpected events—they are considered strengthening events.
The final destination? Appearing before God in Zion.
Yes, the end result is to be with God. Not only that, but we are heading to Zion to celebrate with God. To feast. This is national holiday time.
This isn't like my trips to church
I go to church every Sunday to spend time with God, but I don't consider it a pilgrimage. There are no dry valleys that become lush and green because I'm passing through. I don't really feel stronger at the end of the thirty minutes it takes me to travel there, although in reality I travel farther than a lot of Israelites would on their trek, and I do it every week and not a few times a year.
But my life as a whole… Maybe that's the journey, too. The pilgrimage is bigger than a highway to one town in a small country in the Middle East. And that valley—there are a whole lot of valleys I've wept my way through. Then take the fact that I do pass through and have never once been stranded in those valleys—that's my blessing. Those dry, weepy valleys strengthen me. They become pools of understanding and growth.
As an anxious soul who never quite fits into this world, I want to think of this life as a journey to something better. I am more than happy to call myself a citizen of another kingdom. This world's arrows bounce off when I understand who I am, what my goal is, and where I'm going.
I thrive more when I consider this a journey and not a home where I need to find ultimate fulfillment. That's later. Right now my heart is set on something else, and no valley or hill will stop me. Anxiety, my deepest valley, will never hold me. God turns it into a place of blessings and escorts me right on through.
The end of the journey
The destination—to be in the presence of God–is something to get excited about. A person on a pilgrimage or traveling a highway thinks of his destination often. (Were you ever a child on a trip asking "Are we there yet?" Yep, the destination matters.) David says he would rather spend a single day in God's house than a thousand elsewhere. The struggle of the journey was worth it to be in God's presence, to play a role in the national worship of Israel.
Maybe because we have the Spirit with us all the time, I admit there are few situations where I am this excited about seeing God. Some Sundays I go to church because I'm supposed to go church. Sure, I also have days where I want to go and days where I feel like I need the spiritual recharge more than anything else in this world. But I'm not consistently excited, and my heart is not completely fixed on it.
Except that final journey. I admit that as I get older I spend more time wondering and speculating about heaven. What will it be like? Will I remember people I once knew? What will it look like for God to be the light and not the sun? What will I do? I find myself setting my heart more on that final end than I did as a younger soul.
How can I be a pilgrim?
The Israelites had multiple celebrations a year where they went to participate with God. I think the closest I have to that is Christmas and Easter worship. I belong to a denomination that has multiple services for these holidays. There are rituals and celebrations in anticipation of the holidays as well as hard services, like Good Friday, which is usually a service where parishioners come and leave in silence. We have a liturgical calendar that gives more of a journey feel to life than other places I've worshiped, and I appreciate that. (Here's a good overview of a liturgical calendar. It's from an Anglican point of view, but other denominations that follow the Christian year aren't much different.)
My life is also a journey experience similar to the one in Psalm 84. I've walked valleys of weeping. I've bathed in lush pools. Occasionally my dry valley is overshadowed with death, but sometimes the hills are in bloom. As a pilgrim, I know this mess around me isn't my final destination, and that gives me the strength to continue on.
I can laugh and walk with those I love, a spiritual family. I hope not to lose track of someone like Mary and Joseph lost track of Jesus, but I'd love a pilgrimage with so many people and fun conversation that it was possible. One way I can come close to that is by walking with my local church, putting in the time to get close to people and sharing their daily treks. This journey happens more through time than geography, and my tendency to isolate isn't helpful. I need to work to accumulate companions to keep me on the right path.
Set your heart
The sparrows get to nest near the altar. The people get to travel in groups to celebrate their God together. The destination is such that it's worth every trouble along the way.
This is the pilgrimage I walk. I hope it's the pilgrimage you walk.
More than that, I hope this journey, this pilgrimage, is where our hearts are set. Look at verse eleven, which is filled with the blessings those who stay the path can expect:
For the Lord God is a sun and shield;
    the Lord bestows favor and honor;
no good thing does he withhold
    from those whose walk is blameless.
A sun to light and heat the way. A shield to protect. Favor and honor, important when the journey is rough and the darkness creeps close. And the thought that no good thing is withheld–we lose nothing good by giving up the normal human life to walk this path. In fact, the God of Creation waits to fill our cups with good.
Anxious friends, it helps to set aside this life sometimes and focus on the journey. Don't let this world drag you down. Instead, keep walking through the valley. Over the next hill things might look different. Expect blessing in the hardship. Find a friend on the path to chat away your shadows. Imagine how beautiful it will be when we arrive. David ends with a simple phrase that summarizes it all: Lord Almighty, blessed is the one who trusts in you.