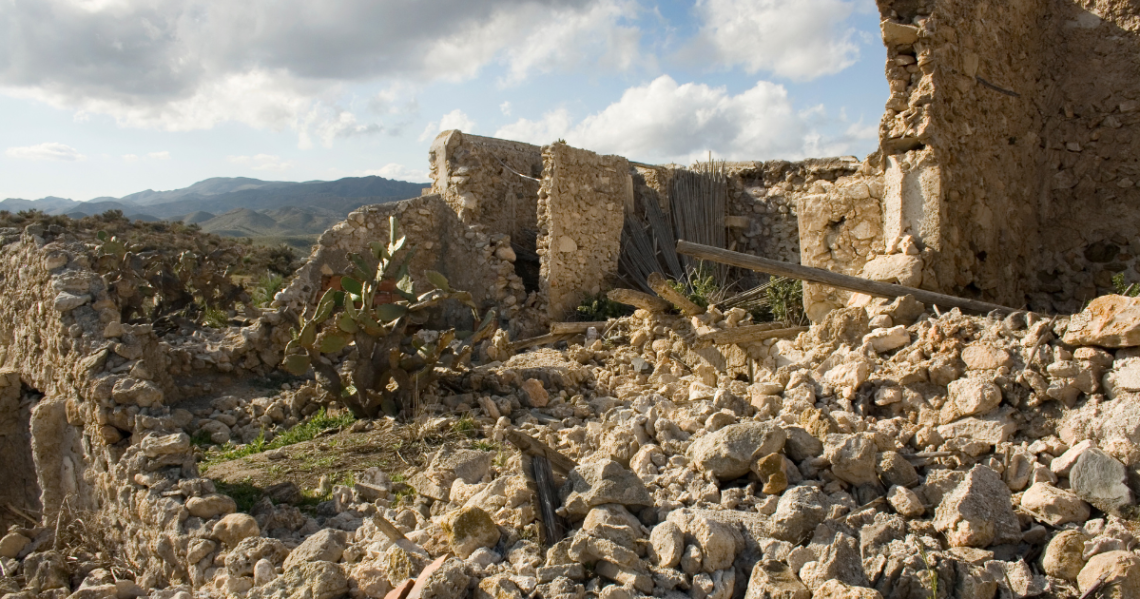 Visiting the Ruins: Psalm 74
 It's time for another psalm, and I chose Psalm 74. Although not a psalm I know well, when it showed up in my daily reading this week, I was intrigued. It's not especially cheerful, but it fits where I am right now.
This psalm was written during the exile. If you're not sure of your Bible history, this is the time when Babylon defeated Israel and Judah, the divided kingdom. They destroyed the temple and deported most of the citizens back to Babylon. God planned this as a punishment because Israel had strayed from him. This is after God had sent prophets warning the kingdoms to turn back to God–multiple times–but they didn't listen.
The psalm has two main sections. First is the retelling of the psalmist's grief, mostly having to do with the destruction of the temple. Then the center of the poem is verse 12: But God is my King from long ago; he brings salvation on the earth. The second half is a list of things God had done, a replay of his powerful history with Israel and the whole earth, all meant to remind God to return as king and savior of His people.
Why this Psalm?
You might ask why this Psalm is fodder for a blog about Christians and anxiety. Well, what stopped me in my tracks on reading it was verse 9: We are given no signs from God; no prophets are left, and none of us knows how long this will be.
Read that again: None of us knows how long this will be.
Isaiah and Jeremiah had promised renewal. Some of them, at least, had turned back to God enough to call on him, but they had heard nothing. They waited and had no idea if God was listening.
Yeah, you might be making the connection now. When I worry about things, when I'm feeling panic or anxiety, I feel a little bit like the Psalmist. I know my Bible. I have a strong faith. But when the worry is at its worst, I feel like the temple has been torn down, and I'm not connecting with God like I should, and it might last forever.
Some of my anxiety stems from long-term prayers. Do you have any of those? Things you've asked God to do or change for weeks or months or years? Do you see any signs? Do you know how long it will be before He answers? I admit that was my first thought when I read those lines. I call and call, and sometimes I feel I'm calling into the abyss.
Or look at the world around us. Throughout history people have sinned and caused trouble, and those of us who honor God constantly wonder how long this will last–when will God come and restore all things?
Destruction and grief
I want to back up to verses 4-8, which recounts the destruction of the temple. Realize that most of Israel had rebelled against God when this happened, but not all of them. There is always a remnant. Imagine what that remnant must have felt when the temple was destroyed. It was the center of Israeli social life. Pilgrimages to Jerusalem, celebrations, feasts… Even without a strong faith, those in Israel must have felt a powerful connection to the temple and their holy city.
And the Babylonians tore it down. Gone. The people were taken away, the temple torn down, and I suspect the people who still honored God felt so hopeless, that maybe this was the end. For many it was the end. Never in their lifetimes had these people experienced such destruction, desolation, and hurt.
So there's a huge level of national grief in this psalm. Personal grief. My Bible suggests this might have been written by someone left behind, as some didn't go into captivity. Imagine wandering Israel and seeing building ruins and wild fields and broken, sad reminders of what had been a great nation. They all recalled their country under David and Solomon, and now it was empty, a wilderness for jackals and owls.
The hope
The plea in Psalm 74 is for God to turn his steps back toward Zion (v.3) and to rise up and defend His reputation by defending his people. Enemies are mocking Israel, and the psalmist wants to see that come to an end.
Of course, the deeper request is for God to make Israel whole again, to fix what had gone wrong. Since the temple was rubble, there were no signs, no prophets, and no timeline anyone could see, this was a bold request. I can almost hear the sad desperation in the voice of the writer. So much had been lost, and since Israel had brought it on itself, that could only make the sadness worse.
Remember
That brings us to the second half of Psalm 74, where the psalmist uses a technique David used in his psalms when he felt overwhelmed or abandoned. He remembers.
Verses 13 and 14 talk about Leviathan and the sea being split open, an allusion to creation. The psalmist uses mythical language from the neighboring nations where creation had to do with monsters, only here God is over all of it. So, God created the world, spelled out here in epic and poetic terms, and that means He can get it back on track.
Verses 15 speaks back to the Exodus, when God opened springs and dried rivers to keep his people safe. This seems to be one of Israel's most beloved stories, pulled out when they feared defeat and loss. The Psalmists write about this event many times.
Then 16 and 17, like 13 and 14, speak of God in universal terms, not just how he relates to Israel. God is the God of day and night, sun and moon, seasons, and all the natural boundaries of this world.
The God who can do all that can rescue Israel. The God mighty enough to do all that should know that the nations are mocking him, that some in Israel long for His presence again, grieve His temple, and wait for the future promises of good things for His people.
What the psalmist didn't know
This psalmist didn't have the end of the story. He didn't know that, in time, God would send Nehemiah to take the exiles home. He didn't know that, many years in the future, God sent Jesus to rescue His people once and for all. All he knew was that God was silent, and people were cruel, and his heart was bleeding over the loss of Divine fellowship symbolized in the temple.
Some days all I know is that God's timing seems slow. Sometimes the evil of people and the confusion of my anxious mind are cruel, and God allows them to mock me. Some days I feel the loss of fellowship as I lose ground to anxiety and can't quite remember when God and I were close. I feel like I call and get no answer.
But, unlike the writer of Psalm 74, I live past the ultimate rescue. I know what Jesus did, and I can claim that. I have the Spirit to remind me of what Jesus did and who he is and who God is and who I am.
Because of that Spirit I am being built into the temple. Yes, I might have my moments of grief. Sure, some days I'm far away from God. But I don't ever have to stay there. No, I don't know how long God will take to heal a few wounds in my life. I don't have a timeline on when or if he'll answer my long-term, heart-felt prayers. But I am not an exile.
I am free. I am part of a vital, living kingdom with a living God whose temple isn't in ruins. Jesus is the way to God, and He's better than any temple made of stone.
Why go back?
In light of my having the rest of the story, why would I want to dwell on this psalm? The thing I love about psalms is they give us permission to feel all the emotions. In fact, this is our second psalm about feeling forgotten and abandoned. Yes, I have the Spirit to bring things to mind. Yes, I know God does care—Jesus is the central player in my life, and I can't forget that.
But those weak moments, those grieving moments… I can speak words like this psalm. I can admit I am tired of praying because I see no signs and don't know how long it will be. If I am so lost in my spirit that I feel like I'm walking through the rubble of the temple instead of approaching a living throne, God draws near and doesn't scold. He lets me speak the words and have the tears, and then his Spirit speaks to my spirit, and I can find my way again.
I can join with men and women from ages gone by and approach God with full honesty. He does hear my cry. Whereas the people of the exile may have doubted that, I know that when I am worn or far from God, He WILL come for me and bring me back. The lines of communication will be rebuilt. When I speak these words I know the answer will come, and that's a comfort.
Have you needed a psalm like Psalm 74 lately? I'd love to hear your thoughts. Just comment below.