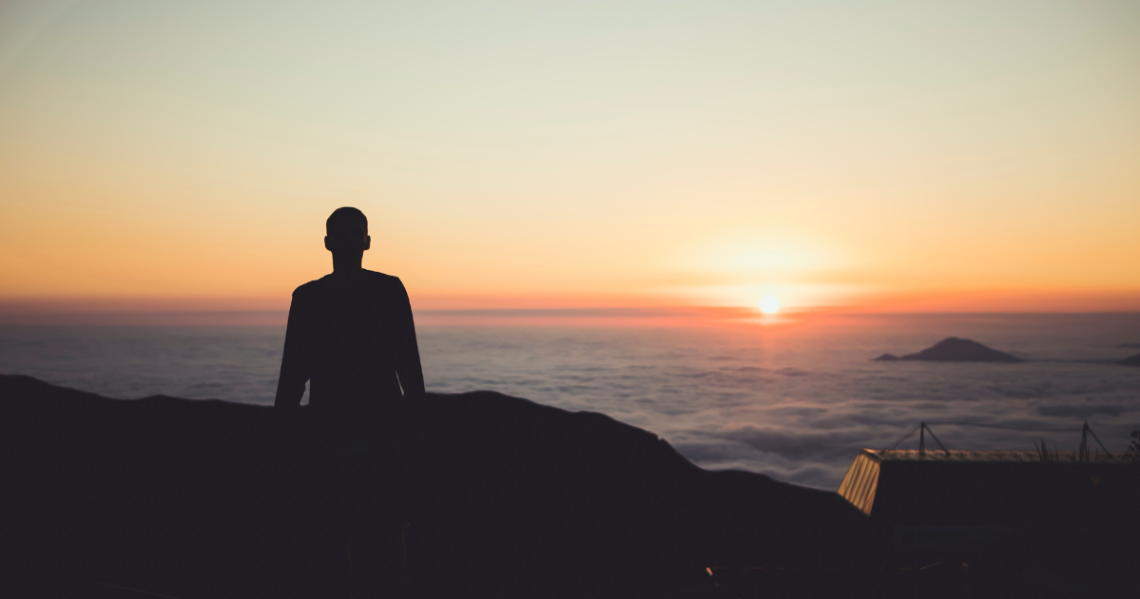 Jesus' Lessons on Self Care: Christian Self Care Part Two
In my last post we discussed self care and how God feels about it. In 1 Kings, Elijah is under a broom tree asking to die because he had reached terminal burnout and epic fear levels, and God cares for him. He gives him food, water, spiritual care, a social life, and a job/purpose. Then he sends him back into the fight. God gives us a blueprint for fighting burnout and epic fear, and that blueprint we often call self care.
Today we'll look at Jesus' lessons in self care. Let's assume Jesus, as the Son of God, who created mankind, has a good idea what it takes for people to work at their peak. Then let's assume he lived that out, and there are patterns in his life we can steal for our own lives. What does Jesus say and model concerning self care?
Spiritual care
Let's start with spiritual care. First, Jesus starts his days alone with God. Is this every day? We don't know. But more than once he starts the day, before it's even light, alone with God refilling his spiritual tank. God's presence helps him prepare for the day to come, and in Jesus' case those days were full. He used a lot of mental and physical energy. (Mark 1:35)
Add that to the blueprint—time with God alone, seeking God's presence. This is prayer, quiet time, and Bible study.
Jesus shows up more than once in the synagogue and temple. So, add to the blueprint corporate worship in the spiritual care column. (Mark 1:21)
I was reading what other people had to say about Jesus and self care, and another blogger brought up something I hadn't thought about. Jesus was quick to ditch his plans when God had something else in store. At one point Jesus was taking his disciples to spend time alone, but a crowd followed, and he ended up miraculously feeding 5000 people. (Mark 6)
So, Jesus was flexible, listening to God's will first. If self care means we say no to what God wants, then we've gone awry. Caring for the soul means being in such close contact with God that everything else is prioritized behind His will for my hours, my days, and my life. (This is where we have to trust that, if we are in a place where there is no time or energy to care for ourselves, God can take care of us.)
Also, Jesus knew his Scripture. I love finding Old Testament references in the New Testament, and Jesus uses them all the time. He didn't have to dig around and find them—he knew them. Deep knowledge of the Bible isn't often included in lists of self care, but I think it's vital. Know the owner's manual! Jesus was ready for anything because he knew what His Father had said to Israel. If we put deep Bible study and even memorization on our blueprint, we are ready for whatever God has prepared for the day. We are also less likely to listen to the voices of the enemy—and if you've been living in the world the past few years, you know that voice is loud, and a lot of warriors have been lured off the field by its siren song.
Physical care
Jesus cared for physical needs. He had this grand purpose, to give his very life for us, and yet more than once he took time to feed people and help them find rest. Our physical bodies matter.
Of course, we all know he fed 5000 and then 4000 with a few loaves and fishes. He tells his disciples that the people are hungry, and he doesn't wish to send them away hungry, so he uses miraculous means to feed them. Yes, he exercises his authority over creation to feed a group. I suspect this was a big deal that took a lot of time. Even with the miracle, that food had to be served to each person, and then there was clean up. Jesus' time was short, and he felt care of people's physical needs was a good use of that time.
On another occasion his disciples come back from one of their first forays into street preaching, and Jesus takes them to a quiet place to feed and debrief. (Mark 6:30-31) This is physical and emotional/mental need filling. The disciples needed rest, food, and someone to talk to, time to process what they'd just done and what it meant, and Jesus took the time to make that happen. (In this particular instance he was sidetracked by 5000 hungry people, but I think the point stands.)
Jesus' lessons on self care suggest it is okay to look out for our physical bodies. Within reason, of course, because there is always a better diet, better exercise… Our bodies are temples for God, not temples for us. As usual, motive matters, and anything good can be abused.
Social care
I don't always consider Jesus' social world. He was very often a guest in someone's home, so often that he was labeled a drunkard a time or two. (Matthew 11:19) He enjoyed the company of people in relaxed, social settings. His purpose of saving the world didn't mean he couldn't take time to enjoy a good meal and to visit with friends (like Mary, Martha, and Lazarus). (Luke 10; John 11:5)
Jesus also participated in his community and society. We see him travel to Jerusalem for the national feasts and holidays, and he respects the taxes and the rulers. In Israel the national holidays were also religious holidays, but there is nothing wrong with being involved in our community. And as for the taxes and rulers, they were not ideal, but Jesus lived within the framework of his society as long as it didn't expressly stop him from his God-given purpose.
He was not a recluse. To reach the world, he lived within it, and that meant he participated and went where the people were.
Of course, Jesus spent most of his time with a small group. He had a few very close friends (like Peter, James, and John who got to see him transfigure on the mount in Matthew 17) and then a group of acquaintances that traveled with him. More than once he took his disciples away and taught them alone.
When it comes to relationships, Jesus models all kinds for all purposes. Close friendship, celebrating with people, teaching and mentoring, comfort–although Peter, James, and John, asked to be with him the night before his death, failed him and fell asleep. Yes, he seemed to take comfort from them and not only give to them. When Lazarus died, he wept because the sisters' pain was his pain. Jesus had true friendships where both sides benefited. He wasn't simply a rabbi or leader. He was also a human, and he experienced the full range of human experience.
To sum it all up…
So, to summarize Jesus' lessons on self care, we see variety and balance. Jesus spent time alone, including times he sent the disciples ahead and made his way on his journey alone. He spent time with close friends and acquaintances and even enemies. He enjoyed a good meal and was concerned about others eating. Jesus put God's call over his own care. He walked and rested and even sang hymns. He attended the Jewish festivals and engaged in corporate worship as well as lived up to the social expectations of his community.
The man knew balance and rhythm in all aspects of living. His life was full and varied. And within that framework, he preached, healed, and changed the world.
How are you doing?
Do you find your life in balance? I sat down and looked at my days, and I discovered a few places where I fall down. First, I'm not very social. This fall I've started to attend a group at my church, and I am trying oh-so-hard to be faithful to that, because I spend time alone with God and then time alone in my head and sometimes go days and days without anything more. Not so healthy, especially for an anxious soul whose head can be her worst enemy.
How is your diet? Your sleep? Do you pack life so full that you don't take time for the basics of physical care? Or do you go overboard? Is your diet so strict and 'perfect' that you can't ever accept an invitation to dine with friends because they cannot serve food to your standards? Are you in the gym so often that you haven't time for friends or serving? Or do you never leave your computer desk to the point where the walk to the coffeepot is an exhausting event?
How about your spiritual life? Do you prioritize time with God? Are you involved in corporate worship with a church somewhere? Is your hold on your schedule loose enough that if God changes it, you can follow his lead, or does it mean hours of rescheduling and grumbling to get back on track? Below is a list—not an exhaustive one—of elements of self care, things that can help us put life in balance. I pulled these not only from Jesus and Elijah, but from wise people in the contemporary world who speak on this subject, including some who do so from the unique perspective of the anxious Christian.
Some elements of self care
Rest
Time with God
Deep study of God's Word
Adequate diet
Adequate exercise
Time alone
Work
Purpose/Mission
Hobbies
Friendship
Celebration
Worship
Flexibility
Discovery—learning and doing new things
Emotional/mental maturity
What else should go on the list? Or what specifics would you add? For time alone, do you read a good book? Take a hot bath? For celebration, do you like a good party or a quiet meal with friends? What does your time with God look like? (I posted one idea on that here.) What can you do to foster maturity in all areas of your life? (This one is huge and probably needs a few blog posts of its own, but we'll just leave it here as is.)
Jesus says in the Good Shepherd passage (John 10) that he came to bring life, that we could fully live. I think He meant more than spiritually. As a shepherd looks out for all aspects of a sheep's life, Jesus cares about all aspects of ours. This means we can also pay attention to all aspects of life.
Surrendering to Jesus doesn't mean we lose our humanity and our need for a full and balanced life. I feel like I just touched the tip of this iceberg, but I hope in here you've found comfort in your human need for rest and care and balance, that you can live life to the full while still being surrendered to Jesus.
I'd love to hear how you find balance and care for yourself as a Christian. Feel free to comment below with your thoughts and ideas.
Note: Interested in part one of this series, Self Care and Lessons from Under the Broom Tree? Check it out HERE.