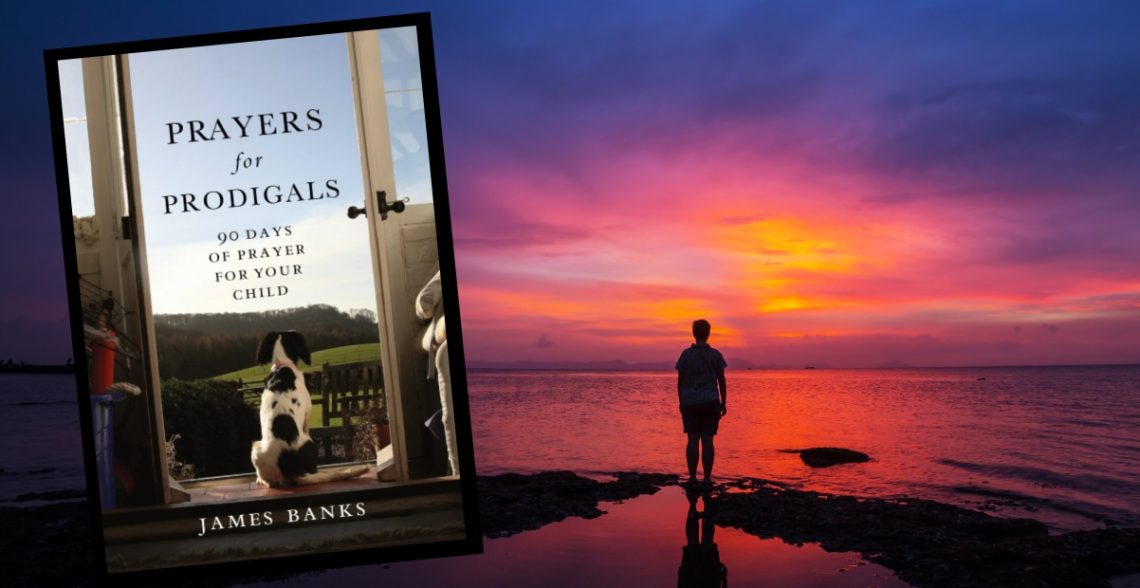 Prayers for Prodigals–A Review
As a writer, I've had the privilege of talking to readers through the years, and one thing that comes up often is the prodigal and prayers for prodigals. Many of you out there are praying for a son or daughter who is not walking with God, children who have wandered from the faith. We can take them to church and teach them the truth of the Bible, but we cannot make them trust, and some of them walk into their adult years apart from the faith of their childhood.
 I'd love to say I have no experience with this, that all of my children are walking with God, but the truth is I have prodigals. And the heart status of people I love can be agonizing. I worry. I push sometimes. Sometimes my fear for their eternal futures paralyzes me. I want to pray, but I run out of words. Mostly I run out of hope. I have prayed for years, and sometimes I am too weary to pray another day.
Enter James Banks and his book Prayers for Prodigals: 90 Days of Prayer for Your Child.
An unexpected surprise
I didn't open the book with a lot of hope. I'm not much for devotionals or prayer books. I want a magic prayer that will bring my children home, but I know that doesn't exist, so what good would a prayer book do? Well, I was pleasantly surprised, and this book is now part of my morning quiet time. When I get to day ninety, I start over.
Written for thirteen weeks of praying, each week has a theme, like "The Power of a Praying Parent," "The Running Father," and "Waiting for an Answer." The week begins with a short introduction, often a story from the writer's life or an anecdote about prodigals who have come home. Then each day is a prayer, less than two pages long.
What makes these unique is the amount of Scripture packed into these prayers. Banks pulls thoughts and phrases from all over the Bible to include in his prayers. They're taken in context, so even short phrases aren't being misused, and they almost all point to God's power, his compassion, his timing, and his unchanging nature.
Heart Connection
What I liked the most was that this man understands. Every heartbreak that goes with loving wandering souls—he's been there. He understands and holds out hope. Day after day of understanding and hope… It's hard not to love that.
I raised my children in church and the homeschool world, and it's hard to admit that any of my children wandered. It's easy to feel failure, regret, and shame, to isolate and not call on others for help and prayer. The reality is that people judge. Christian people aren't exempt from this, and it's hard to face those who seem to have it all together when I don't have it all together.
Because of this, it is so encouraging to read of someone else who understands, someone who isn't going to judge or shame or frown at me because of my heartache. Instead, Banks fills pages with pleas for his child, promises of God's goodness, and honest tears over God's plans, all the while treating God and Scripture with the utmost honor and respect.
It goes something like this…
I think the best way to explain this book is just to quote some of it. Here is part of the prayer from day 60: Dressed in Armor.
We need to dress my son, Lord. Just like I did when he was little, but this time with armor.
Your armor. Armor made especially for him.
He doesn't know how to put it on himself yet, so I ask your help to put it on him. He needs it more than he knows. He's been walking too close to where the enemy walks, and he's in danger.
Show him "your ways, O Lord. Teach" him "your paths" (Ps 25:4).
Help him to "stand firm" in your truth, with the "belt of truth buckled" around his waist (Eph. 6:14).
I pray he will "love the truth and so be saved" (2 Thes. 2:10).
…Just as Abraham believed you, "and it was credited to him as righteousness, and he was called" your "friend" (James 2:23), I pray my son will believe you, Lord Jesus, and know you as friend.
…I "take up the shield of faith," Father, "to extinguish all the flaming arrows of the evil one" (Eph. 6:16). I would step in front of my son if I could, and I do know my prayers protect him. But I also ask that he will learn to use the shield for himself.
Some of the prayers speak of a son, and some a daughter, but of course you can pray them for whatever child or loved one you wish.
The side effect of intercessory prayer
There are days I sob these prayers. There are days I smile through them, sure that good things are coming. I hope one day to put the book down and never need it again, but until I do, this has been the best weapon in my prayer arsenal to keep me praying with confidence and conviction for my children. By the end of each prayer, tears are drying, hope is returning, and I think yes, I can persevere.
Best of all, as I read I grow in my own faith. James Banks really digs into the character of God and his interactions with his children. I don't understand why I have been asked to wait on my children's salvation. I don't know for sure if that salvation is God's plan. But as I pray diligently and search the Word for God's hope and peace and power and love and authority, I can't help but draw nearer and lean into God with more confidence every day.
My heart knows your heart
If you have a prodigal, I want you to know you are not alone. Fall on God with no shame. If you need to repent, He hears and forgives fully. After that you may ask for blessing upon blessing and know He hears. Your heart may break, but you can trust He draws closer with every crack. Every parent is imperfect, and yet most of us loved and trained our children to the best of our abilities. King David had children who wandered, and he was a man after God's own heart, so I needn't feel that the outcome of my adult children is in my hands alone. Also, I needn't think the current state of my children's hearts is the final word.
This is the first few words of the final prayer in the book. I hope it brings you hope. My heart longs for your heart to heal, and I hope these words will help on your journey. They sure help me.
I believe, Father.
I believe you want me to pray for my child because my prayers will make a profound difference for good in her life.
I believe that you gave her to me for a reason that has more to do with your vision of her eternity than my wishes for her on this earth.
I believe that you want me to be "wrestling in prayer" for her (Col. 4:12) so that through prayer, things will change for the better.
No matter what the situation looks like or what other people may say, no matter what conventional, earthly wisdom may forecast for her future, I will believe you.
I will seek you above all others, for you "have the words of life" (John 6:68).
Blessings to all of you who love prodigals. I hope we will all meet up in heaven and hold and weep on one another's restored prodigals, all those children we love and diligently prayed over for days and months and years.
Note: James Banks has a prayer wall for prodigals on his website. If you desire prayer–or have a praise–concerning a prodigal child, I would recommend it. Bring Kleenex.
Second Note: I would love comments on this post, especially if you have a prodigal for whom you want prayer (I will pray for every person posted!) or you have a song of praise for the one who's come home.