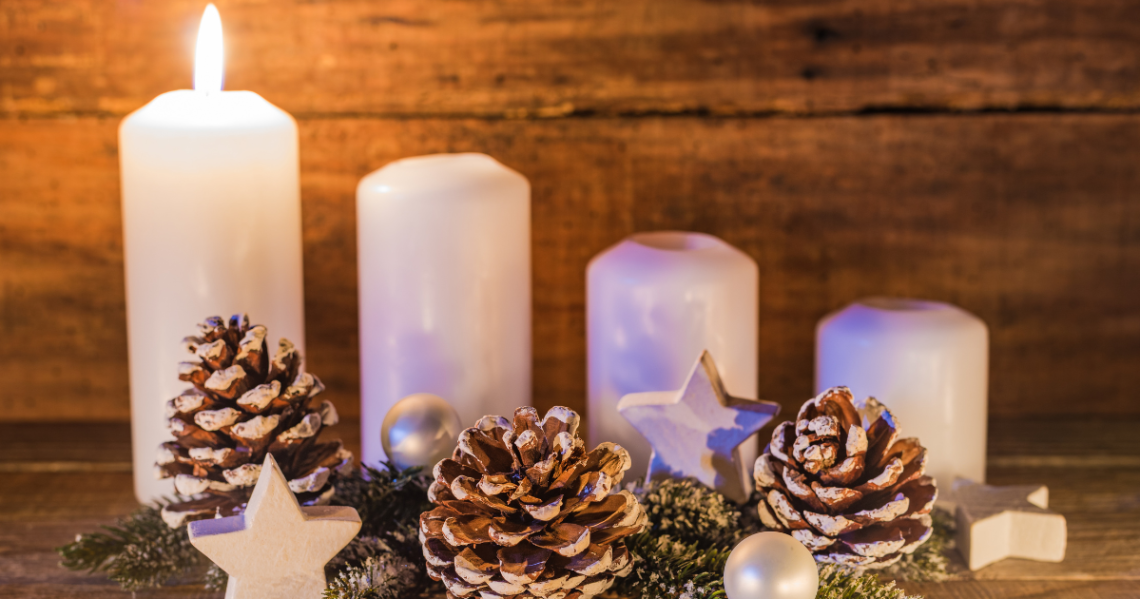 Advent and the Art of Waiting
Years ago I had a lifestyle blog, which just means I would blog about whatever caught my fancy. Seems I'm naturally preachy, so they usually turned into sermons, but sometimes I wrote anecdotes or even a few short non-fiction pieces.
This time around, I decided to be more intentional. Blogging has changed. I would pay attention to trends and niches, think about SEO and traffic. Bah. I'm really no good at any of that stuff. I am the writer of over fifty novels, and I can't figure out marketing, either. Some of us just have talents in some areas and not others.
Because of that, I've been thinking about the future of this blog, and I might add a few more lifestyle posts, things that matter to me at the moment. It's always going to have a bent toward the anxious person, because that's what I am. God uses that to teach me and mold me, and I can pass that on. But I will get more personal. I've done some of it, and I see more of it in the future. Today is one of those days.
I had a hormonal migraine headache this week. I was reading about them, since they are getting worse as my hormones have their last hurrah, and experts say this kind of migraine is one of the worst. That made me feel good, because I felt like a wimp for barely feeling able to survive it. I had plans to attend church for the first Advent Sunday, decorate my house for Christmas, and attend a midweek Advent service. Instead, I spent three days on the sofa with a headache that made me wish the world would end so I could stop hurting.
A mini Advent and a waiting king
I waited. I anticipated healing. I dreamed about the day I could move and eat and live again without agonizing pain. (To give you a hint about how this feels—blinking hurt. I am not making this up.)
Instead of doing the things I wanted to do to start Advent, I actually lived a mini Advent, and I waited. I felt the darkness and longed for the light. (Metaphorically. Actual light made me want to cry.) I questioned whether my hopes were in vain. I doubted and hoped and doubted again.
If you've read much of my stuff, you know I admire David the King. He fascinates me. I read something from the Psalms daily, and I lean toward his. This is a man who understood waiting.
If you don't know the story, David was anointed king as a boy. Then he went back to the sheep fields to wait.
Later he became a general in Saul's army, again waiting for God's promise to pan out. At one point he hid in the desert to avoid the king, who wanted to kill him. More waiting. I must say at that point God's promise to make him king might have looked a little hopeless.
Even when the promise began to be filled, David was only made king of part of the nation. For seven years he ruled Judah. Then, finally, God's promise was fulfilled, and for thirty-three years David was the king of Israel.
It isn't a surprise that David has a lot of great verses in his psalms about waiting. I thought I'd share a few.
Be still before the Lord
    and wait patiently for him;
do not fret when people succeed in their ways,
    when they carry out their wicked schemes. Ps. 37:8

In the morning, Lord, you hear my voice; in the morning I lay my requests before you and wait expectantly. Ps. 5:3

Wait for the Lord;
    be strong and take heart
    and wait for the Lord. Ps. 27:14

I waited patiently for the Lord;
    he turned to me and heard my cry. Ps. 40:1
All good stories have villains
The common denominator in these psalms is enemies. David's life was filled with enemies, both before and after he became king, and he used a lot of ink writing songs about them.
I, too, have enemies. Mine aren't as human as David's, but they are still things that can harm me and keep me from a full life living out God's purposes.
The big one is anxiety. Right now my physical body isn't acting much like my friend. How about more nebulous things like inflation and economic crisis? Most of these things have power in my life, and I have no power of my own to fix them. All I can do is lie on the proverbial sofa and wait for better days.
Except David did more than wait. In most of these songs, David ends with praise. He waits in hope. I don't always do that. I wait in resignation. I wait with complaints on my lips, not trusting better things to come. Sometimes I don't wait at all, simply despair.
Waiting is an art. Waiting in hope is even more so, and that's the trick of Advent. In Advent we participate in Israel's longing for a Messiah, except we know the end. We get the whole of the story before we even start. It doesn't take much faith to wait with them knowing the end first.
But Advent is also about the next coming, when Jesus comes back, when God makes all things new. That one is a little harder sell. I might believe it fully, but still… Some days it feels like darkness is winning. Israel knew decades of silence between the last prophet and the birth of Jesus. Some days I feel that silence, too. The world seems to spin further from God every day, and yet I'm told there is a kingdom being built. Where is it?
What to do while we wait
Ah, that's where the hope and praise comes in. Trusting… if you asked me what spiritual attitude I want to cultivate more than any other, it would be trust. I realize that my doubts and fears stem from lack of trust. I want to trust. I think I do trust. But it's not full or complete. There are holes in my trust, and Satan uses those. Yes, those are where the enemy grabs on and gives me grief.
In waiting I can see those holes clearly. Where do I wait in hope? Yesterday I wasn't convinced my head would stop hurting. I honestly feared my hormones were such a mess that this time it would become my permanent future.
I lost trust and hope. Experience said three days, no more. But fear said no, this could be the worst. Experience says if things get really bad, there is a medical world out there that can often help. Nope, said fear, this still has the makings of being the worst.
The worst. The worst happened. Jesus, the man of God, the Son of God, was betrayed and died. That was the worst, and nothing can ever come close to that worst.
Look how that turned out. It was the best. It was the story that mattered the most, the only story that mattered at all. Every other story, every other event, every hope and dream hinges on that event, the worst event.
My worst events are small. My worst events are covered, washed clean, and woven into a plan. Whatever happens, my worst events cannot take away the final end of my story, when I am in Jesus' embrace and welcomed Home.
Tying the rambling together…
I apologize for the disorganization of this post. This is true stream of consciousness, and it's an insight into a mind that is still a little foggy from a few days of messiness. Pain triggers anxiety, so the past few days… the stuff of nightmares. I'll just admit it. I could handle these days better, and I don't always do it.
But I also understand a little more the conundrum of Advent. Waiting is hard!! Hope can fade with time. Sometimes my weariness of life in this world eats at my trust in God to come and save.
But the light came. The light will always come. Nothing can stop it. No, I don't always cling to that in the pit, but that doesn't matter. Psalm 40 says God pulled David out of a pit. God pulls all of us out of the pits. Whether here or later or past the end of time, no pit is permanent for a child of God. He doesn't leave us there, and he does all the work of pulling us out. The pit isn't your home. It is a moment in time that will end with God as the hero and you renewed and filled with new life again.
I've fallen into my share of pits lately. And God pulls me out again. He always will. The last time will be the greatest, when the rock on which he sets my feet is within the gates of my new home. Super amazing.
I leave you with a proverb, one that caught my attention this week. It's one I need to remember. No enemy can win. The pits are all temporary and no enemy can win. That's probably the heart of this post. And some moments in the past few days, I was the last one to believe either of those things.
There is no wisdom, no insight, no plan
    that can succeed against the Lord. Proverbs 21:30